1st day trying HIIT... ouch!
Tuesday, July 29, 2008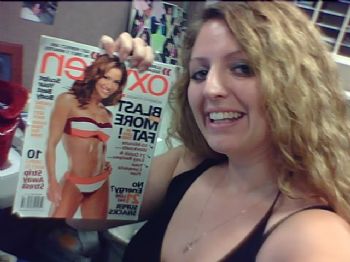 Pic is me- holding my Oxygen magazine from last month- I need to get a new one! LOL But I'm broke- anyway I wanna look like her!!!!!!!!!!!
Okay- WOW. I got back from the gym not too long ago- and OMGosh- I am exhausted. I don't know if I even did it right- but let me tell you it kicked my arse! haha Here is what I did- I got on the Elliptical- set the Resistance thingy to 4, and started off kind of slow to warm up. I warmed up for about 3 minutes I think. And then I kicked the intensity up to 6 and went at it hard for 2 minutes. Back down to 4 for 30 seconds. Back up to 7 for 2 minutes. Back down to 4 for 30 seconds back up to 7 again for 2 minutes. Back down to 4 for 30 seoconds. Back up to 8 for 2 minutes. Down to 4 for 30 seconds. Up to 9 for 2 minutes and back down to 4 for 30 seconds... And one last time back up to 9 for 2 minutes. [About 20 minutes]. Then I continued for another 10 minutes at 5 -but at steady speed- just ging normally. By the time 20 minutes was up though I thought my lungs were going to come out -LOL I almost just stopped at the 20 minutes- but I really wanted to get in 30 minutes of cardio. I still dead some leg weights afterwards- not many just a couple- then I showered and got back to work- but best workout I think I have ever had... If I'm not doing something right- please let me know -or what I should do instead! Input is welcome!
Thanks!
Have a SPARKtastic day!!!!!!!!!!!
~Audrey