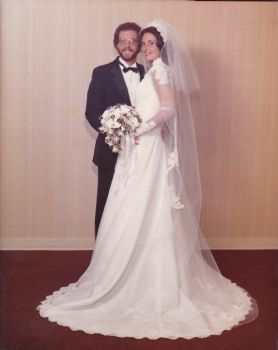 Wow! Unbelievable! One year ago today, for some reason (don't know why!), I decided I had had enough of being fat. I stepped on the scale and it read 206 pounds - yuck! Too much for at 5'9" tall...
I remembered SparkPeople...something I had signed into back in January, but hadn't used...I decided that August 6th was going to be THE day - and it was!!!
I began to use Spark, and didn't look back! I tracked every morsel of food, stayed within my calorie limits every day, worked out 4 days a week, then 5, then 6 then 7 (using Leslie Sansone's Walk Away the Pounds with hand weights - 2 pounds, then 3, then sometimes 5...Yoga....Prevention Magazine workouts....and a few others)
I immersed myself in Spark for 7 months...joined teams, led one...spent hours with my Spark friends daily instead of eating - and it worked!
I didn't feel the need to go over my calorie limit, maybe because I knew I'd have to report in...and maybe because the scale started to move...sometimes slowly, sometimes backwards, sometimes not at all, but overall it kept moving, and so did the tape measure!
My first thought was that I would try to get to 160 pounds...it became clear that I would surpass that! Then I said 150 pounds - I reached that goal on March 5th - 7 months after starting on Spark!
I have since lost another 6 pounds, and generally weigh 144 pounds - what I weigh today! I keep thinking I should lose a few more, although my husband says absolutely not!
When I started I measured my neck, waist and hips - that's what Spark "asked" for...
so:
neck 14" now 12"
waist: 36" now 26.5"
hips: 48.5" now 37"
Total pounds lost = 62
Today I can fit into my wedding dress - I was married in 1981 and was very slender (I'll have to try to scan a wedding photo and post it!)
I no longer have to weigh and measure all my foods, although I sometimes do, just to be careful and to check myself....I went on vacation for a week, ate out 3 times a day, and came home having gained less than 1/2 pound, which was gone the next day (probably extra water from extra salt in restaurant meals!)...
I feel I have truly made a lifestyle change! Shopping for clothes (even bathing suits) is now fun, and I even love to pose for pictures! I used to wear XL or size 18's...now I wear 4's or 6's or 8's depending upon item, brand, etc...
Most importantly, I feel fantastic!
Another amazing change...I used to be terribly out of shape! Yesterday, I spent the day in the hospital for some outpatient surgery...my resting heart rate was 48! I kept setting off the alarm on the monitor because they expect the lowest to be 50! The nurse asked if I work out - she was amazed at how great my heart rate was! How cool!
To everyone I have met along the way, THANK YOU!
I have been fortunate to have met 3 Spark friends in person already...this weekend I will meet a 4th! YAY!
To everyone still Sparking - You CAN do it! You ARE worth it! One choice at a time! One meal at a time! One workout at a time! Being slimmer feels great!
{{{sweaty hugs}}} Judi