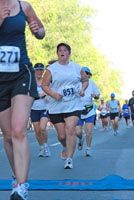 It's been a whole month since my last blog....
I ran a 10k on 7/24/08 I knocked 9 minutes off my time from the first one!!!! SSSOOOO excited about that!
As we all know, I've been having a hard time staying motivated lately..... I've been "training" for a half in December, but that doesn't seem to be motivation enough for me. So I decided that I need to have something to keep me "going". Therefore, I decided that I am going to a 5 or 10k at least every other week. I have looked at upcoming events and this is what I've come up with so far:
8/15/08 - Sandy City Midnight 5k
8/23/08 - Dimple Dell Race at Your Pace 5k
9/6/08 - Wasatch Womens (ladies only) 5k
9/13/08 - Classic 10k
9/27/08 - Need to find something
10/11/08 - HAFB Firehouse 10k
That's as far as I've gone. Races become kinda scarce in Utah when you get into the colder months...... But I think if I at least do those and keep with my training program, I will still be ready for my half in December (If I get to do it).
I have also decided that I need to add more strength training to my workout. My husband bought me Jillians "Biggest Winner" DVD's for my b-day so I think I will add them 3 days a week on my cross training days. I've tried them once, they are BRUTAL, but I think I need some brutality in my life.
I really need to get back on the eating bandwagon too..... I really haven't been doing very well about tracking my food..... I am going to work on that in coming weeks.
So, basically in a nutshell, I have taken a month off from my program. I didn't gain anything, but I didn't lose anything either.....
I will do measurements and weigh in tomorrow. I will post them at some point this week. We shall see how well I can do this and how determined I can be!!!!