Enough rest! And Treadmill Desks?
Thursday, September 18, 2008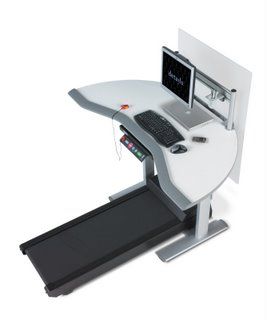 Well I ran for about an hour today. It was hot out, the wind was blowing... it basicly was too hard for a short run. But oh well! My knee is tender but it's nothing to blog about. :) Also, I'm making the Risotto from the www.cleaneatingmag.com site tonight.
But really, what I wanted to share with whomever reads this is an article I just read about work walking! They have desks with attached treadmills so you can answer emails or attend conference calls while walking! I think that's pretty cool.
You can read more at this website...
www.treadmill-desk.com/