Cabo trip and other nonsense
Wednesday, October 22, 2008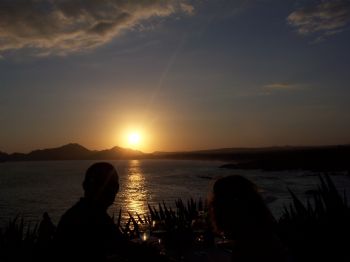 Isn't that picture awesome!? That was quite possibly THE most memorable anniversary dinner ever.
www. vhnd. com/2008/10/20/rockin-cabo/
I also thought this link was fun. I was hanging out with my friend who was waiting in line for tickets to one of Sammy Hagar's concerts down in Cabo. And a guy with a camera came up and asked to take our picture. Now people will REALLY think I'm a redhead!
But back to sparking. . . okay, I've got nothing. My brain is still making it's way back from Cabo. I'm trying not to over-eat and trying to keep the exercising or at the very least the moving continuous. I did manage to track my calories once. But then our busy schedule got a little busier when substitute teaching requests started coming in. Tracking was the first thing to get dropped which I know is the kiss of death for me and my discipline. Additionally, the request phone calls come in right in the middle of my workout time (which is 6:00 in the morning). So now I've got to figure out another plan. Don't get me wrong, I'm not complaining!! I'm struggling because my days are so full of good things I don't have time to fit in more good things! (like tracking and exercise.) Soooooooo for the time being, I'm just trying to be somewhat conscientious and minimize too much damage to my goals.
Well, now I need to go sew a dance competition costume for my oldest daughter -- it's all good!