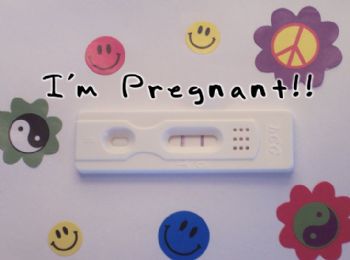 My first clues ...
I missed my period, except for a tiny bit of spotting (most likely implantation bleeding) on the 29th. I had been nauseous every day off and on for a week. My boobs felt like they were about to fall off LOL and, the BIGGEST symptom of all -- I'd been so tired that I'd taken a nap almost every single day. I'd fallen asleep in lawn chairs, on the couch, dozed in the car, crashed on my bed ... I was exhausted!
Covert Operation ...
On July 5th, 2007, I snuck into a general store on my own under the pretense that I was just gonna grab a new pair of sunglasses. I sent my husband down the strip mall sidewalk to a farm store and told him I'd walk down and meet him later. With the pregnancy tests (I bought two) hidden away in my purse, I pretended everything was cool as we did our shopping and went home. As soon as he plopped his butt down in the recliner in front of the t.v., I grabbed a Dixie cup and headed for the bathroom. As I took the test I kept telling myself that there was no way I could NOT be pregnant ... still, I was nervous as I used the dropper to put four little drops into the test well. I watched as the test began to change colors. At first it looked like nothing was going to happen. Then, in about 30 seconds, two purple lines began to slowly come into view!! My whole body was shaking as I digested the news. I'd known it ... but I hadn't KNOWN IT until I saw the results with my own eyes!!!
Now what --
I didn't want to tell my husband right away. When I got pregnant with my daughter he knew I was taking the test and I called him into the bathroom to show him immediately. I thought it would be fun to do something special this time around -- especially since I knew he'd be even more shocked than I!!!
I walked out of the bathroom and pretended everything was perfectly normal. For the next several days the secret nearly drove me insane!!! I wanted to tell him at every turn. I nearly slipped up and said something about "the baby" in at least a dozen different conversations. The hardest part was when my first craving hit! I wanted pumpernickel croutons and cottage cheese from Ruby Tuesday's and he wouldn't take me because he wanted to go out on the boat instead. Ooooh it was so hard not to demand he drive me to the restaurant immediately LMAO!! How DARE HE deny my pregnancy cravings?!!! But still I kept my mouth shut.
Breaking the news --
Yesterday (Monday, July 9th) was his first day back to work after being off the entire week of the 4th. With the house to myself I went to work. I made a couple stick figure drawings on the computer (made to look like my daughter drew them and wrote the words) and printed them out on transfer paper. I ironed the pictures onto t-shirts for me and my daughter. (She's six and didn't know all the words on her t-shirt, BTW, so I didn't have to worry about her spilling the beans lol.) I set up a backdrop and got out my camera and tripod. When I was finished taking our pictures I went to CVS and had a shot of us printed in black and white, and also printed a picture of the pregnancy test lying on sheet of paper with stickers around it. I bought a frame for the picture, wrapping paper, and a bow.
My husband got home from work just in time to pass my daughter going out the door with her friends for vacation bible school. I had the present hidden away in the house by that time. I didn't want him to know we had anything in store for him at all, but my daughter shouted, "Daddy, we got you something!!" out the car window lol. He came inside and wanted to know what his surprise was, but I told him he had to wait to open the gift until McKayla came home from VBS. I kept it hidden away so he couldn't manhandle it until time to open it.
By the time she got home it was after 9 o'clock in the evening. By the time the parents of her little friend left it was after 10!! I had been trying so hard to be polite to our company, but MAN I just wanted them to go so we could have our little family moment! FINALLY we said goodnight to our guests and the time arrived. I handed my husband the gift, wrapped in red tissue with a huge red bow on it, and he immediately said, "Oh, I know what this is."
I said, "You don't have any clue!"
"Oh yes I do. It's a picture frame."
I said, "Just open it! You really don't know what it is!"
Of course when he did open it he said, "See, I knew it was a picture!"
I then watched as he glanced back at the picture in the frame. I saw him register the fact that there was writing on our T-shirts in the photograph. Then I watched his eyes slowly read the words, "Baby #2 Coming March 2008 to a family near you!" on my shirt and "I'm gonna be a big sister!" on McKayla's. He looked up at me slowly with the most shocked, confused, deer-in-the-headlights look I've ever seen in my life and said, "You? ... Are?" ROFLMAO!!! I wish to God I'd video taped it. I think it would have made the cut on America's Funniest Home Videos!
After his initial shock he hugged me and we started to laugh in that "I can't believe this is happening!" kinda way. I told him that McKayla was unaware of what her shirt said, so he could be the one tell her if he wanted. He brought the picture to her and read the words out loud as he pointed to her shirt, "I'm gonna be a big sister." My daughter repeated the words slowly once, then again in the form of a question, "I'm gonna be a big sister?" My husband told her that, yes, Mommy was gonna have another baby. She turned to me and said, "You're gonna have a baby?!!!!" I said, "Yes!" and a huge grin spread across her face. It was so precious! She ran and hugged me and said, "I bet it's gonna be a boy or a girl!"
Yep. I chances are pretty darn high it's gonna be one or the other lol!