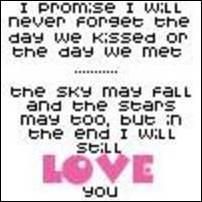 I'm back...sort of..maybe.
I've been gone all summer. And it had been a roller coaster season in every way.
But in the midst of all the craziness. I found something, someone, incredibly beautiful. Something I'd heard tell of but was never really sure truly existed.
And we made our own wild and wonderful roller coaster of love and, romance, dancing, laughter, caring, support, passion, giving, sharing and just being.
I very recently lost someone I love very much. And we just didn't have nearly enough time together, but I will treasure the time we did have together forever. One day we were in love and making plans, and the next thing I knew he's gone, or so they say. I still find myself thinking he'll walk in the door, or call me.
Every time I turned to him when I needed someone he was there for me. So I'm trying to hold on to the strength and support he gave, to help see me through this.
Everyone around me is being incredibly supportive, but I can't help feeling a little like a burden.
Right now I'm very much in survival mode. My body I know keeps telling me it's hungry, But when I try to eat, my body just rejects it. I have no apatite whatsoever anyway, the thought of eating just seems so absurd to me right now. But I'll try, my goal today is to eat something, besides diet coke, cigarettes, and Ativan.
(song I'm listening to today; Please Remember, by LeAnn Rimes)
Di,
"Grief is a tidal wave that over takes you,
smashes down upon you with unimaginable force,
sweeps you up into its darkness,
where you tumble and crash against unidentifiable surfaces,
only to be thrown out on an unknown beach, bruised, reshaped...
Grief will make a new person out of you,
if it doesn't kill you in the making."
Stephanie Ericsson